Ekphrastic writing: In words (either poetry or prose) vividly describe one of the paintings that you saw on our virtual tour of the gallery last week.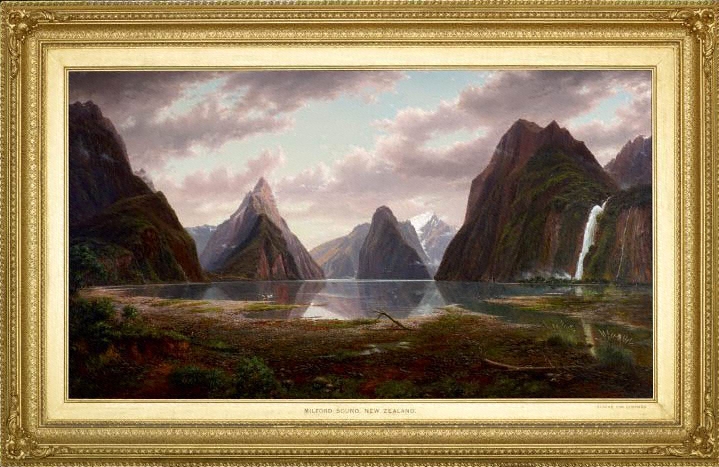 Our virtual visit to the NSW Art Gallery provided a glimpse into the relationship between art and literature. Focusing on a painting by Eugene von Guérard titled 'Milford Sound, New Zealand', this work is a powerful Romantic illustration of the sublime as seen through the natural world.
Mighty Mountain
Violet clouds divide the beryl sky,
How fresh the crisp air,
The sun-kissed mountains sleep here,
On mighty pedestals,
The passage of time worries them not,
For here they have rested for centuries.
How brilliant, these unmoving ranges,
Casting their gaze over blooming flowers – over lush plains.
On this lake man rests too,
Raised heads with eyes that gleam with admiration.
Brothers and sisters these mountains are,
Hand in hand they eclipse all mortals.
A lone waterfall befriends the mounts,
They transition together through mother's seasons,
It's water cascading over rocks wrapped in moss,
Falling gracefully, and gently rippling into the quiet lake.
Giver of life, sustaining Earth's creatures and flowers,
Embracing all offspring of the universe.
Their presence is felt by man's soul,
Invigorating and all powerful,
Breathing life into each organism,
Eternity seen through the eyes of nature,
Living through the inner mind,
Infinite and uplifting.